AIRWOLF Disc Brake Road Bike Carbon Wheels Novatec 411/412 Bicycle Rimset 25mm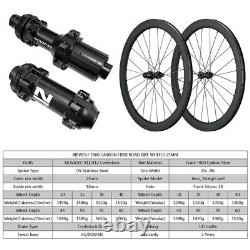 There are all kinds of wheels in this world. We have a selection of the lightest and best quality carbon wheels for cycling enthusiasts. Choose between disc and non disc road bikes, with clincher, tubular and tubeless rims.
So you can expect your bike without compromise. Every wheelset is carefully handmade in Airwolf. Very stiff and therefore direct power transmission without energy loss. Temperature stable, especially in the area of the brake tracks.
Arrow-fast acceleration due to excellent stiffness to weight ratio. Light and stable with high directional stability.
Ideally suited for high mountains, all-round, training and competition. AIRWOLF 25mm Disc Brake Road Bike Carbon Fiber Wheels Novatec411/412 TYRE SIZE:700C ROAD CARBON WHEELS RIM MATERIAL:Toary T800 CARBON, UD FINISH RIM HEIGHT:Front and Rear:30mm, 35mm, 38mm, 40mm, 45mm, 50 mm, 55mm, 60mm Optional. ERD:30mm:579,35mm:569,38mm:563,40mm:559,45mm:549,50mm:539,55mm:529,60mm:519. INNER RIM WIDTH (CHANNEL):18mm. TYRE WIDTH:From 23 mm to 28 mm.
HUB:Novatec 411/412 6 Bolts / Novatec 411/412 Centerlock. FRONT WHEEL SPOKES: 24, (12 left - 12 right). REAR WHEEL SPOKES:24, (12 left - 12 right). SPOKES-PROFILE:AERO or Double Butted. WEIGHT LIMIT :120 kg (rider, bike, equipment and luggage). FWB OPTIONS: Shimano(fit for 8/9/10/11 speed). Note: if you need MS/XDR, please contect us. Package included: 1 pair of wheels(Front wheel+Rear wheel).
Buyers do not need to pay tariff, Packet is sent to home directly.