BladeX PRO T/T CARBON ROAD BIKE WHEELSET 488T Triathlon Time Trial Wheels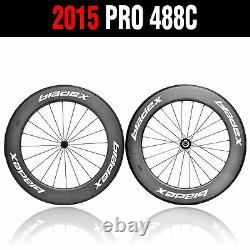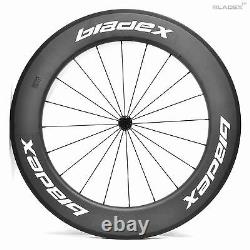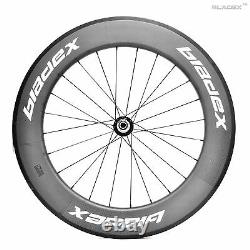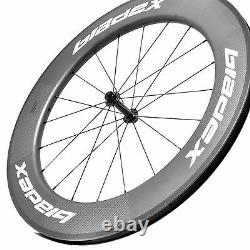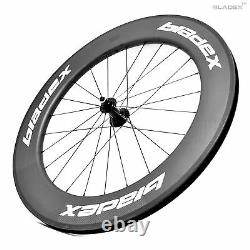 BladeX PRO ROAD CARBON WHEELSET - TUBULAR 488T. The Most Aero And Smooth Wheelset, Save Your Each Single Watt.
Time To Make It Wider. Now 2015 new wheels can accept 25mm wide tires. Because at the same air pressure, a wider tire encounters less resistance of rolling than a narrower tire. We dont have to make it a complicated report in this case. It is all attributed to the contact patch.
At equal pressure, a 25mm tire has a wider but shorter contact patch, while a 23mm tire has a slimmer but longer contact patch. As it was very well explained by the chart below from Continetal, at the same inflation pressures and tire loads, it needs to cost more energy to deform the tire.
It is obvious from the above photo, with a wider tire at same pressure, rider wastes less energy on deforming the material. In certain condition, you may need 23mm tire as well, but there should be no worry, you can still mount 23mm tire on a 2015 Pro Wheel, which is both compatible with both 23mm and 25mm tires. Not Only Wider, But Also Thicker. In 2015 wheels, not only the rim width get increased, but also the brake track is thicker than before, we have added 4 layers of carbon fiber to each brake track, the carbon fiber laid up in different angles increases the durability of the brake track by 20%. Another important upgrade is on the spoke hole wall: By applying 4 extra layers on the spoke hole wall, we make it more durable, which resulted in 320kgf max spoke tension on the test report.
When riding in a windy condition, rider has to fight against the drag from the cross wind. With bladed spokes used in most of the road wheels, the spokes become part of the drag source.
To improve the crosswind performance, we make the spoke width from 3.2mm to 2.3mm, but matain the bladed shape. Its is a small change but cut back the contact with cross wind, without losing aero performance in none-wind condition. Furthermore, to cut through the air better, we change the spoke shape from a Box to be a Olive, this shape is sharper on both ends, it lets the wind from ahead pass smoothly, slightly result in faster wheels spinning and riders energy saving. Sandvik T302 material: its stainless and high durability. Cold forge technology: We gain up to 20% more Strength.
Front 712g, Rear 871g; 1583g In Total. Front 20 And Rear 24.
Front: Radial, Rear: 2X Cross For Drive And Radial for Non-drive. After the order, please choose from the following order spec template and send back to us.
HUB COLOR: Black or Red. HUB COMPATIBILITY: Shimano 9/10/11 Speed or Campagnolo 9/10/11 Speed. SPOKES COLOR : Black or White Color. NIPPLES COLOR Black, Red or Silver Color.
BRAKE PADS COMPATIBILITY : Shimano or Campagnolo. DECALS: BladeX Logo Black, White or None. It will protect your wheels from violently throwing and pressure on the long trip. DESCRIPTION OF THE PRO SERIES. Safety Is The Essential Demand.
To be sure that our wheels are strong enough to be safe, all of our wheels endure lots of testing in the lab. We test wheel prototypes at varies pionts, including Forward Strength, Lateral Tortion and Spoke Hole Tension. Here we only present the test reports for 38mm depth wheel. Just like the 38mm depth wheels, all our models have been tested in different conditions, they are proven to be able to handle riders over 120kgs. Reaching Balance Between Weight And Quality. Carbon rim is mixed up by layers of carbon material in different angles, the more layers we put in a rim, the stonger it becomes, at the same time, the weight also increased. So we have to find a balance between weight and strength. After testing a lot of prototypes in different amount of layers, we found the balance, now the rims we are using is strong enough to handle a heft of 300kgs, but their weight are still controlled to be light. By a limitation of the weight, if the single layer carbon fiber can be stronger, we will be able to bring more durability to a rim, so the carbon fiber is all-important for a rim. We have choosen Toray in Japan to be our only carbon material supplier, their ability to supply stable quality is well known by the industry. Our whole product line is using their T700 carbon fiber, which supports us make our wheels strong and durable. High Tensile Carbon Toray T700. Material is crucial for a rim, so we select material very carefully. There are 3 main places producing carbon fiber material, they are Japan, Taiwan and China Mainland.
Toray in Japan is the biggest and best carbon producer in the world, we use Toray T700SC from Toray for all of our rims. Although Toray product price are almost 2X than those from Taiwan and 3X than China Mainland, comparing the durability and stiffness it brings, it is definitely worth. We mix 9 layers of the carbon material in different angles, a mixture of different angles resemble a uniform material, and they make the rim body resistant to all kinds of forces. Spoke hole burden most of the weight, for the spoke hole wall, we use as many as 35 layers to make it, these layers make the rims extremely stiff and durable. Extra 3 Layers On The Braking Track.
By adding 3 extra layers of carbon material to the braking track, the braking track is much more durable, but not add much extra weight. Its simple to understand that the smooth rolling can make your work more efficient, then you go faster, and the smooth braking can make you have more control, then you have more efficiency on the turn. We make our wheels rolling and braking smoothly by applying some special material into the wheels design.
How fast of a bicycle is most determined by the performance of its revolving components, wheels are the main components of a bicycle. This makes it reasonable to upgrade the bearings, as by upgrading to ceramic bearing enjoy a lot of benefits over the steel counterparts.
Higher hardness of rolling element. Better wearability - Greater durability - Longer service life. Lightweighting the system - Lower centrifugal force during rotation, consequently less bearing wear and heat generation and bearings can run at higher speed. Increase the rigidity of system - Less sphere deformation under load and this will transfer energy better. Higher precision and better surface finish of ceramic balls.
Less friction between ceramic balls and races - Less wear. Less maintenance or maintenance free - Races will not block due to rusty. Less magnetic contaminations to be magnetized into the raceway that can affect smooth rotation and destroy the raceway. No galvanically stimulated corrosion - Can be used in application that requires electrical isolation.
Our patented brake pads are made of the Ceramic Fiber material, they match perfectly with our Basalt Braking Surface, to provide QUIET and SMOOTH braking experience. Also they have some great features other than then the traditional brake pads material, - They work normally even in the rain.
Maintain the temperature under 248 Fahrenheit when braking. We use the Basalt material instead of Carbon Fiber when making the braking track, it increases the rim Temperature Resistance for about 150 Fahrenheit and conducts heat much better than Carbon Fiber.
Basalt material increases the brake performance in wet condition without increasing the wear and tear on the braking surface. This means that our rims can last longer than ordinary carbon wheel rims with the Basalt material. And this technology can also help our rims to stand wear and tear. Quality Should Not Be Luxurious.
We hold the whole supply chain to support us provide the affordable price while present the high quality products. Prices Comparison Cross Various Brands. The item "BladeX PRO T/T CARBON ROAD BIKE WHEELSET 488T Triathlon Time Trial Wheels" is in sale since Tuesday, July 15, 2014. This item is in the category "Sporting Goods\Cycling\Bicycle Tires, Tubes & Wheels\Wheels & Wheelsets". The seller is "bladex-wheels" and is located in Xiamen, Fujian. This item can be shipped worldwide.
Part Type: Set (Front & Rear)
Brand: BladeX
MPN: 488T-2015
Tire Type: Tubular
Valve Type: Presta
Brake Compatibility: Rim Brake
Wheel Size: 700C
Compatible Bike Type: Time Trial/Triathalon
Country/Region of Manufacture: China
Country of Manufacture: China