Zipp 404 Carbon Tubular Wheelset (Black)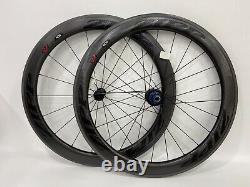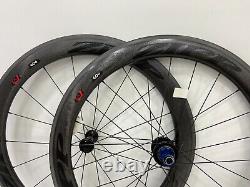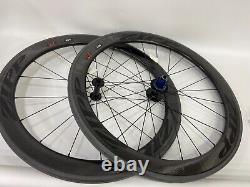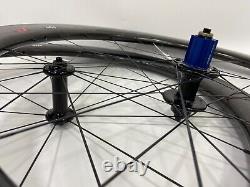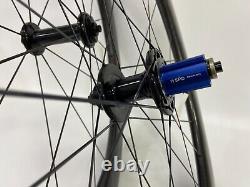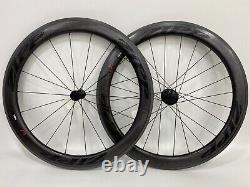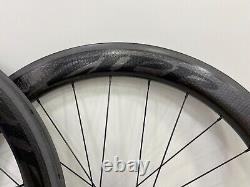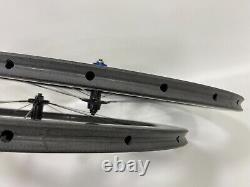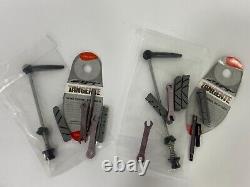 Zipp 404 Carbon Tubular Wheelset (Black). The 404's 58 mm rim profile is a classic in Zipp's arsenal that dates back to the early 1990s but now with the advanced Firecrest aero-rim shape, Zipp's all-around performer is an even greater threat to win any race on any terrain. By controlling airflow around the back half of the wheel, 404 Firecrest is 9 seconds faster than its predecessor 404 model over 40 km at a moderate 10-degree wind angle.
At higher wind angles, the improvements are even more dramatic in terms of speed and stability. That's because Firecrest moves the center of pressure closer to the steering axis so crosswinds exert less side force on the wheel. The result is a more stable ride. Firecrest® - A better wheel in every way. Zipp's proprietary Firecrest® rim rewrote the fundamentals of wheel making, resulting in improved aerodynamics, ride quality, wheel strength and stability in even the strongest of crosswinds.
As a result, the entire Firecrest family of wheels makes a bigger difference in more ways than ever. Firecrest technology, discovered as we developed our Carbon Clinchers, refocused our thinking to concentrate not only on the front half of the wheel, but also the back half. Previous rim shapes were designed to smooth airflow coming off the tire, and tapered inward from the widest point of a toroidal bulge. But Firecrest rims have a less pronounced bulge and maintain a near-constant width almost all the way to the spoke bed.
Without giving up the proven benefits of the toroidal shape, Firecrest is the first aero profile that effectively controls airflow around the back half of the wheel. The performance benefits are substantial. With Firecrest the 404 Firecrest Tubular (58mm rim depth) matches the aero performance of the pre-Firecrest 808 (82mm depth). Zipp's Firecrest rim shape improves stability by moving the wheel's center of pressure aft and downward to sit almost directly over the steering axis, where wind-induced steering torque has a minimal effect.
Using computational fluid dynamics (CFD) software, we've discovered subtle variations in rim shape that improve stability without increasing aerodynamic drag. With the 404 Firecrest Carbon Clincher, they have achieved a near neutral steering torque. In real-world conditions, Firecrest rims are markedly more stable than other rims of equal or even shallower depth. As Zipp discovered when developing the Zipp 303 to thrive under unforgiving conditions at the Spring Classics, a wider rim increases lateral stiffness for sprinting and cornering yet offers greater vertical compliance for more control, comfort, and durability on rough surfaces. The same holds true for Firecrest rims.
The 404 Firecrest is a proven performer on the open road in both tubular and Carbon Clincher versions, the wider design places more rubber on the road while cornering without adding rolling resistance. Beyond aerodynamics and stability, the 404 Firecrest's wider 27.07 mm-wide profile offers a slew of other benefits on the road. The upgraded lateral stiffness makes the 404 Firecrest even more responsive to accelerations and more precise when cornering. And its composite structure is designed to absorb impacts by flexing slightly outward - which gives you a comfortable ride and long-term durability. Even with all the improvements from Firecrest technology the 404 Firecrest Tubular's weight is a light 640 grams.
On the climbs, it goes toe-to-toe with shallower, less aero rivals. On the flats, it hangs with deeper, less nimble competitors. If any one wheelset can do it all, it's the 404 Firecrest. The 404 Firecrest Tubular is built with a the latest iteration of our 188 rear hub, the V9, along with new spoke-lacing pattern for the rear wheel - refinements that result in improved stiffness and durability. The new 188/V9 hub has larger precision Swiss steel bearings for increased durability. Our new "virtual 3 cross" lacing on both sides of rear wheel improves stiffness, achieving 3 cross stiffness in a 2 cross pattern with a new spoke geometry. The 188/V9 has 25 percent more torsional stiffness than a leading competitive hub. This measure of stiffness is crucial for the direct power transfer to the rear wheel for out-of-the saddle sprints and climbs. The new hub also is laterally (side-to-side) stiffer that its rival or predecessor.
Wheelset Net Weight: 1.45kg. Over 99% of positive feedbacks. Sometimes, our item price is low because of stock clearance. No fake product from Cyclingvelo!
If you need a special invoice for declaration, please let us know. If your item hasn't arrived yet. Sometimes, you parcel is delivered to family member but they forget to tell you. If the item doesn't match the listing description, just let us know.
We are happy to resolve problem with customers. Please understand that public holidays in. Is different from other countries. If you found that we are not response promptly, please check out whether we are enjoying holidays.
This item is in the category "Sporting Goods\Cycling\Bicycle Tires, Tubes & Wheels\Wheels & Wheelsets". The seller is "cyclingvelo" and is located in this country: HK. This item can be shipped worldwide.
Wheel Size: 700C
Material: Carbon
Color: Black
Part Type: Wheelset
Compatible Bike Type: Road Bike
Brand: Zipp
Tire Type: Tubular